Six members in box seat for excellence awards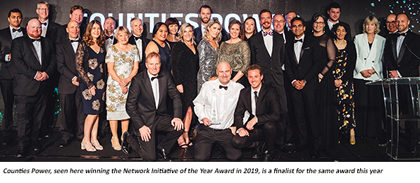 Six ENA members are finalists in the annual New Zealand Energy Excellence Awards.
Westpower–Electronet are on the short list in the Innovation in Energy category for a revolutionary innovation to detect live fallen conductor events.
Mikaere Ngarimu from Eastland Network​ is competing with Jared Murrell from The Lines Company​ for Young Energy Professional of the Year.

Counties Power is again a finalist in the Network Initiative of the Year – this year for its project to cater for unprecedented growth in Pokeno township. The improvement to this network will increase safety and improve reliability.

MainPower is short-listed in the Well-being Award for "Breaking from tradition and improving work life balance."

The Lines Company and its community trust owner, the Waitomo Energy Services Customer Trust, are in the top three in the new Outcomes Award for taking a customer-focused approach to tackling energy hardship.

An audience of about 650 is expected when the awards are presented at the Cordis Auckland on 10 March 2021.