Joint approach to promote public safety around electricity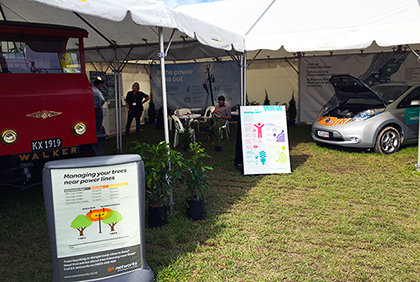 Christchurch lines company Orion invited neighbouring network companies, Mainpower, EA Networks and Alpine Energy to join in a collaborative public safety promotion at their site at the South Island Agricultural Field Days this year.
The three day event is held biennially at the end of March and attracts around 30,000 visitors and 500 exhibitors from around the region.

The area covered by the four networks has a number of common public safety risks.
A large percentage of the land is devoted to cereal and similar crops which utilise large machinery.
There are numerous farm shelter belts, forestry blocks and ornamental plantings adjacent to the overhead lines and there is an increasing trend for both farm and lifestyle block owners to install electricity generation plants to maintain their electricity supply during network outages.