Pricing reform workshop agrees to work together on proposed timing of changes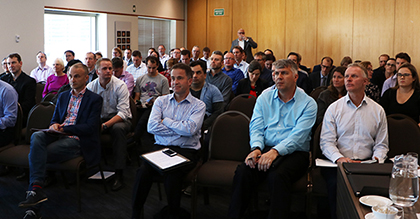 Around seventy representatives from retailers, distributors, regulators and consumers attended ENA's pricing reform update workshop in Wellington in November.
ENA, and its joint technical implementation working group which includes retailers, have been working their way through the many complex issues that need resolution to ensure the transition to a more cost-reflective basis for distribution charges can be successful.
Recent modelling of the impacts of potential pricing options using real consumer data has identified further issues to be addressed, including the potential uneven impacts on different demographic groups.
ENA chief executive Graeme Peters said the level of workshop attendance and engagement was significant and extremely pleasing.
"It's vital that we collaborate well with all our stakeholders for the move to cost-reflective pricing to succeed, so it's great to have this level of interest shown by a range of different participants."
Anonymised consumption data from 26,000 customers of Counties Power was used, mapped against available statistical and demographic data. This gave a detailed insight into the potential impacts on bills from the three cost-reflective pricing options tested against differing socio-demographic profiles.
Counties Power's customer profile, while not able to be directly compared with any other network, fell roughly in the middle of other New Zealand network consumption profiles.
Consumer representatives were invited to join the discussion for the first time, with representatives from Age Concern, the Sustainability Trust, Consumer NZ, energy advocate Molly Melhuish and budgetary advisory services attending.
ENA's own consumer research was discussed, with the real challenge of engaging meaningfully with consumers on pricing reform being highlighted by UMR Research's David Talbot.
The joint technical implementation working group, which comprises four retailers, four distributors and an observer from the Electricity Authority reported on its work over the last 12 months.
Some of the technical issues it had identified, such as data file formats, had now been substantially resolved or downgraded to relatively minor, the group reported.
Paul Fuge from ERANZ presented on the retailers' perspective on progress, urging no let-up in the momentum.